tagmin – the bespoke software for theatrical agents
Tagmin is the most cost-effective and complete client management system available to agents.
More agents use Tagmin than any other agent software in the UK – it's comprehensive, yet simple to use, and developed on a daily basis for agencies of all sizes.
Tagmin is also used by agencies in the USA, Germany, Ireland and Australia.
Tagmin is an approved partner of Spotlight.
Tagmin in German
We are pleased to announce Tagmin will shortly be available in the German language. We are also working with filmmakers.de following the news that they will be taking over the running of the VdA data pool in Germany and look forward to working with agencies in Germany of all sizes to provide software that is tried, tested and cost-effective.
"Wir freuen uns sehr über die Zusammenarbeit mit tagmin – dem Marktführer für Agentur-Software. Ein wirklich tolles Produkt aus UK ist somit jetzt auch in Deutsch erhältlich. tagmin ist die perfekte Schnittstelle von Datenpräsentation und Agenturverwaltung. Nahtlos und schnell. Darüber hinaus ist die Kooperation mit tagmin auch Ausdruck der internationalen Ausrichtung von filmmakers die sich in Kürze in einer multilingualen Version der Datenbank widerspiegeln wird."
(Clemens Erbach, Filmmakers)
---
what agents say about tagmin…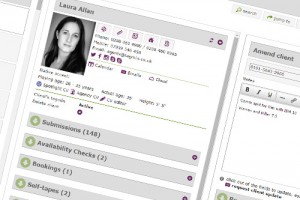 "Tagmin has been fantastic for us here at Troika. The biggest bonus for us has been the bespoke element as the team are so responsive and supportive."
Troika (PMA)
"WE LOVE Tagmin. Thanks for simplifying our days.  Now we're using Tagmin we just don't understand what took us so long! The interface is extremely user friendly.  You can do what you want to do, easily and quickly.  The data hook-up with Spotlight makes Tagmin light years ahead of other services.  And did we mention how easy it is to use?"
Brown, Simcocks & Andrews (PMA)
"Well – f%!k my old boots – what doesn't it do? Tagmin has changed our lives."
Esta Charkham Associates (PMA)
"We love Tagmin. It's easy to use and payments take no time… the clients love the calendar section and you can use it on the go – all in all it's a really superior product."
Rebecca Singer Management
"An absolute must for any Agency, easy to use and the Tagmin team are super efficient and always there to help. We absolutely love it and we can't imagine what we would do without it!"
Mouthpiece Management
"We can't tell you just how fantastic Tagmin is. It's one of the best investments we've made as an agency."
Jeremy Brook Limited (PMA)
"Tagmin delivers what the industry had been crying out for. User friendly, brilliant features with outstanding customer service – an essential tool for any agency."
Paling and Jenkins (PMA)
"Having been involved with the inception of a rival product I can honestly say this surpasses my expectations. The constant evolution of the product is perhaps its greatest feature. We will never get left behind. My one hesitation in recommending it – I don't want others to have such a good system!"
Shane Collins Associates (PMA)
"Tagmin is the next generation of agent software and has been a fantastic addition to our business. Brilliant features backed up by first-rate customer service makes it an invaluable part of running a busy agency."
Bloomfields Welch Management (PMA)
"Tagmin has definitely increased productivity in the office. It's so easy to access on the go with your mobile and makes taking appointments super easy! The Tagmin team are so responsive and are always on hand to help. A necessity for any busy agency!"
Cole Kitchenn (PMA)
"Tagmin is intuitive and responsive, fulfilling our need for an efficient online database which can be accessed anywhere in the world. Coupled with a friendly, industry-savvy support service, Tagmin has provided an invaluable time-saving addition for our busy team of agents and assistants."
Global Artists (PMA)
"Tagmin is far superior to the other systems we have previously used, and we'd highly recommend it to any other agency. From appointments to payroll, Tagmin is efficient and easy to use. The Tagmin Team are what makes this system so special – they are incredibly attentive and always encourage collaboration in bettering the software."
Denton Brierley (PMA)
"Tagmin works very well with Spotlight, to integrate the two worlds. The system is very reliable and allows us to login and work for anywhere, so working whilst travelling is easy. We highly recommend it."
Hatton McEwan Penford (PMA)
"From day one Tagmin has been easily-accessible, efficient and cost-effective. The updates and accompanying tutorials make it extremely user-friendly and its partnership with Spotlight saves a great deal of time and administration."
Angel & Francis (PMA)
"The Tagmin team have been absolutely amazing in supporting us setting up the new database, from quick responses, detailed and thorough tutorials and lots of patience – It's a bloomin marvel quite frankly!"
Belfield and Ward (PMA)
"We would not hesitate in recommending Tagmin to any Talent agency.  The interface is user friendly, slick and innovative.  Furthermore, the committed team at Tagmin are constantly hands on and willing to adapt features to make life ever more efficient."
Keddie Scott Associates (PMA)
"Tagmin has been a godsend… We are absolutely delighted with the software and wouldn't hesitate in recommending it to every agency."
Williamson & Holmes (PMA)
"Tagmin has proved invaluable at BBA – a system operating in real time keeps the team updated with our client's progress whether the agents are working in or out of the office. Team Tagmin respond to queries, updates or changes efficiently. We could not ask for a better service provider. Thank you!"
BBA (PMA)
"Superb, slick software that has improved the efficiency of the agency. The best customer support EVER! The team are forever developing the software and there are always new features. Kicking myself for not making the switch sooner!"
Daisy & Dukes
"We cannot recommend Tagmin highly enough! We began using Tagmin having used two other very popular systems – and we soon realised how much more modern, streamlined and user-friendly Tagmin is. The team are always on hand with advice and there are excellent step-by step videos to assist even the most techno-phobic office. It is much easier than before to keep track of client availability and invoicing – and the quick and easy payrun system has made our weekly payroll much slicker."
RKA Talent (PMA)
"Tagmin is an easy and efficient system. It suits all our needs and they regularly roll out new features."
Olivia Bell Management (PMA)
"Tagmin is essential for any busy agency and ensures the client gets all the info on any job, it's brilliant for quick availability checks – customer Service is A*"
Goldmans Management
"The TAG Team have been fantastic and always available to deal with any queries we had when learning how to use Tagmin. They are open to consider amendments to the system and they provide excellent video links to illustrate any new features. It's clear they have a very good understanding of the industry."
Gardner Herrity (PMA)
"Tagmin has been extremely helpful to us as an agency, especially considering its link with Spotlight. It has saved us time and effort, and provides a comprehensive view of our agency compared to our previous system. It's modern, accessible on any device and easy to use. The Tagmin team are also supportive and have incorporated specific changes tailored to our agency needs which has been highly beneficial."
The Markham Agency (PMA)
"We have no hesitation in recommending Tagmin as a brilliant all round system for agents for managing clients, castings, jobs and finances. It's made such a difference to our business.   Customer support is brilliant too!"
Marcus & McCrimmon (PMA)
"We are very happy with Tagmin. The move was smooth and it is great to feel that the Tagmin team are always trying to improve the system and listen to all our needs. What a difference to our previous system!"
Chris Davis Management (PMA)
"Comprehensive – not complicated – we are really happy we made the switch. It's definitely made our life easier."
Sharkey & Co (PMA)
"Tagmin has proved invaluable to my agency, all the features I had hoped for, it's like they read my mind! Tagmin offers everything an agent could ever want for managing their clients accounts and if you think of something it doesn't do, they'll add it! Who could possibly want more? It offers everything the competition does and more – only better and faster!"
Paul Byram Associates (PMA)
"Tagmin is wonderful, the software is so easy to use and the team are always there to help and to listen – and then update the software to suit as our needs change. Would highly recommend to any agency."
McLean-Williams Ltd (PMA)
"Tagmin works with Spotlight which is just practical. The fact it is online means it's easy to access and no need to back up. Great software and the support service is also excellent. Big fans of Tagmin!"
Nancy Hudson Associates (PMA)
"Tagmin's support is really excellent. They are prompt, friendly and they're very good at listening to the needs of agents."
Grantham Hazeldine (PMA)
"Very easy to use for us non-tech types. Fantastic support from their team."
Mrs Jordan Associates (PMA)
"Approachable, friendly and swift support given when needed which is invaluable."
Shepperd-Fox (PMA)
"We're loving Tagmin! It's making life much easier!"
Gielgud Management (PMA)
"Tagmin has just made our job so much easier and everything is so easy to find as it's all in one place!"
A & J Management
"A payrun that could take two days is now taking just two hours!"
Philippa Howell Personal Management (PMA)
"Tagmin is cost effective and time saving. Comprehensive yet simple to use."
Mia Thomson Associates (PMA)
"Easy to use – it's great to have everything in one place!"
Steve Nealon Associates (PMA)
"Tagmin has saved so much time and effort in the office. Thank you Tagmin!"
Boland & Reeve (PMA)
"We would recommend Tagmin to any agency… Easy to use and good tech support. Oh, and a great price too!"
Stephanie Evans Associates (PMA)
"Thank you for a great service, we don't know how we'd manage without Tagmin!"
B A M Associates