Feedback
We understand your world and make you the centre of ours…
An amazing system that just makes life so much easier.
Victoria Steven Management
Tagmin makes our job so much easier! We couldn't recommend it more.
Jonathan Arun Group (PMA)
Constantly thinking of new ways to make our lives easier. Thank you, thank you, thank you!
Independent Drama (IDPM)
Tagmin has made a lot of work
a whole lot easier! 
Sylvia Young Agency (PMA)
Tagmin is an agent's saving grace. Thank you as ever for all your help and support.
AK Agents (PMA)
An invaluable tool. It's saves time, increases productivity and definitely helped us grow.
Marta Rubio Agency
User-friendly, with an endlessly patient and helpful team.
Shepherd Management (PMA)
Tagmin has worked wonders for us, we wouldn't hesitate to recommend it.
Hamilton Hodell (PMA)
Moving to Tagmin was much easier than we anticipated! Highly recommended. 
The Artists Partnership (PMA)
An integral part of
our working life.
42 (PMA)
Absolutely essential in helping us run an efficient & streamlined agency.
Sainou (PMA)
Invaluable – user-friendly – you'll wonder how you ever lived without it!
CAM (PMA)
Switching to Tagmin was one of the best decisions we've ever made for the business.
Harvey Voices
We love Tagmin. It is the most versatile software and it saves us so much time.
Nicola Bolton Management
We can't recommend it enough – the best there is. We've looked!
Jo Hole Associates
We recently switched to Tagmin and are very happy. TagTapes is especially brilliant.
The BWH Agency (PMA)
Tagmin has been a revelation in terms of time saved and ease of use.
Just Voices Agency
Tagmin has become an invaluable tool for us – not sure how we managed without it!
Lisa Richards Agency (PMA)
Tagmin has been a game-changer for us as a growing agency.
Fiona Cross Management
Tagmin has saved so much time and effort in the office. Thank you!
Collective Agents (PMA)
Tagmin has allowed us to streamline our processes massively!
The Queer House
A great, proactive service – essential for the smooth running of the agency.
Emptage Hallett (PMA)
We couldn't imagine
being without Tagmin!
Carey Dodd Associates (PMA)
Tagmin has ensured the growth of the agency – this platform has it all.
Aston Management
WE LOVE Tagmin!
Thanks for simplifying our days.
Brown, Simcocks & Andrews (PMA)
Tagmin has been fantastic for us
here at Troika.
Troika (PMA)
The next generation of agent software. A fantastic addition to our business.
Bloomfields Welch (PMA)
Well f%!k my old boots – what doesn't it do? Tagmin has changed our lives.
Esta Charkham Associates (PMA)
Tagmin is far superior to the other systems we have previously used.
Denton Brierley (PMA)
It's an integral part of our business, and we can't imagine life without it!
Tildsley France Associates (PMA)
One hesitation in recommending it – I don't want others to have such a good system!
Shane Collins Associates (PMA)
Tagmin has definitely increased
productivity in the office.
InterTalent Rights Group (PMA)
Tagmin delivers what the industry had been crying out for.
Paling and Jenkins (PMA)
One of the best investments
we've made as an agency.
Jeremy Brook Limited (PMA)
A game changer in making an agent's life easier. We literally couldn't live without it!
33 (PMA)
It does everything but make the tea, though they are working to fix that!
Tim Scott Personal Management
It's has literally turned our office around… we could not live without it.
Abacus Agency & ABA Management
Tagmin has made a significant improvement to how we run the office.
Amber Personal Management
We couldn't live without Tagmin… a must for all Agents.
Eadon Management
We love Tagmin. The clients love the calendar section – a really superior product.
Rebecca Singer Management
The support, updates & client input tools are unique & we wouldn't be without it!
David Daly Associates
The best customer support EVER! Kicking myself for not switching sooner!
Daisy & Dukes (PMA)
Tagmin has been a godsend. We wouldn't hesitate in recommending it.
Williamson & Holmes (PMA)
From day one Tagmin has been easily-accessible, efficient and cost-effective.
Angel & Francis (PMA)
Absolutely amazing in supporting us… It's a bloomin marvel quite frankly!
Belfield and Ward (PMA)
Intuitive and responsive… an invaluable time-saving addition for our busy team.
Global Artists (PMA)
We cannot recommend Tagmin highly enough! Modern, streamlined & user-friendly
Revolution Talent (PMA)
Tagmin works very well with Spotlight, integrating the two worlds.
Hatton McEwan Penford (PMA)
Fantastic… It's clear they have a very good understanding of the industry.
Gardner Herrity (PMA)
Extremely helpful, especially with its link to Spotlight.
The Markham Agency (PMA)
It's made such a difference to our business. Customer support is brilliant too!
Marcus & McCrimmon (PMA)
We are very happy with Tagmin. What a difference to our previous system!
Chris Davis Management (PMA)
We are really happy we made the switch. It's definitely made our life easier.
Sharkey & Co (PMA)
It's wonderful – so easy to use and the team are always there to help.
McLean-Williams Ltd (PMA)
They are prompt, friendly and very good at listening to the needs of agents
Grantham Hazeldine (PMA)
Tagmin has become a 'valued member' of the agency! Highly recommend.
Payne Management
Tagmin has just made our job
so much easier!
A & J Management
Essential for any busy agency –
customer Service is A*
Goldmans Management
Tagmin's proved invaluable, all the features I'd hoped for, it's like they read my mind!
Paul Byram Associates (PMA)
Very easy to use for us non-tech types. Fantastic support.
Mrs Jordan Associates (PMA)
Great software and the support service is also excellent. Big fans of Tagmin!
Nancy Hudson Associates (PMA)
It's everything we've always needed but didn't know we did!
Jane Hollowood Associates
User friendly, slick and innovative. We would not hesitate in recommending Tagmin.
Keddie Scott Associates (PMA)
Invaluable… We could not ask for a better service provider. Thank you!
BBA (PMA)
It's so quick and easy… We would certainly recommend using Tagmin.
Cooper Searle Personal Management
Provides the tools, flexibility and support we need. Could not recommend it more!
Piers Nimmo Management
We absolutely love it and we can't imagine what we would do without it!
Mouthpiece Management
Easy and efficient and they regularly roll out new features.
Olivia Bell Management (PMA)
Approachable, friendly and swift support… invaluable.
Shepperd-Fox (PMA)
We're loving Tagmin!
It's making life much easier!
Gielgud Management (PMA)
A payrun that could take two days is now taking just two hours!
Philippa Howell Personal Management
Cost effective and time saving. Comprehensive yet simple to use.
Mia Thomson Associates (PMA)
Easy to use – its great to have everything in one place!
Steve Nealon Associates (PMA)
A great service, we don't know how we'd manage without Tagmin!
B A M Associates
About
Talent agents use Tagmin to tag together all their admin – streamlining their workflow and linking their world – their talent and contacts – and the projects that connect them.
We're an independent company, and a friendly team from within the industry, who are relentless in our vision to find solutions for agents and the talent they represent. All of our tools are designed to offer much more value than they cost. Created just seven years ago, Tagmin quickly became the system of choice for both the biggest agencies in the UK and the smallest – and all the other sizes in-between! Its comprehensive collection of tools, ease of use and low cost is unrivalled, leading to the vast majority of agencies now using Tagmin – including over 85% of PMA Artists' Agents.
Tagmin is used by a mixture of agencies wanting to move to us from older systems and those who use no bespoke software at all – we cater for them all and celebrate the fact that no two agencies are the same.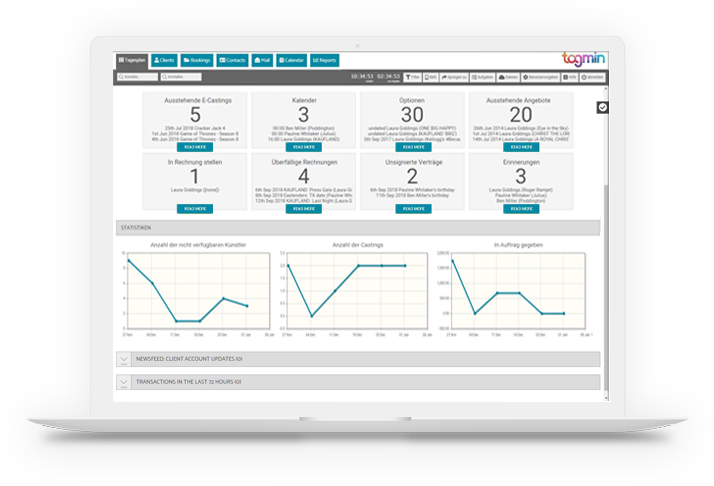 Joining Tagmin in 2022
We'd love to welcome you to the family of agents that use Tagmin. To get the ball rolling simply use this form to request a demo. If you would like a live demo these normally take between 45-60 mins and often book at least 7 days in advance. They allow us to get to know the needs of your agency, to show you around the key tools, to answer your questions and demonstrate how Tagmin can streamline your workflow and simplify your days!
We onboard agencies at set times each month, and spaces are strictly limited, so forward planning is essential.
Click here to email us to find out when our next intake is and to book your move.

Unrivalled features and value for money
Agents often talk about Tagmin like it's a member of their team – in that way it offers real value for money.
We charge per user – and we discount all additional users – to help support you as your agency grows.
We also offer Lite accounts for those agencies that have part time staff – these offer an additional saving.
All of this means those who move over from other systems save a lot of money, and enjoy many more features at the same time.
We work relentlessly to develop the system – as well as find solutions to new problems as the industry evolves.
All our customers automatically receive these updates as soon as they go live.
Track your admin with ease
Clients (talent)

Availability

Filters & Searches

Submissions

AV Checks

Scripts

Meetings

Recalls

Self-tapes

Pencils

Offers

Jobs

Contracts

Invoices

Payments

Reports

Contacts

Mail

Texts

Calendars

Tasks
What's included
Free training when you move to Tagmin

Secure access from any PC or Mac

Free App version for both Android and iPhone

Free Tagmin account for your talent to update their profile, upload their tapes and update their availability

Integrated mailing system

Free UK based phone & email support

Two backups per day

Free software updates and new features
User info
First User: This is a superuser – it can control what your other users have access to although additional users can also be assigned as superusers too. A single user can be shared, but can't be used by two people at the same time.
Additional users: We offer a discount on all additional logins, supporting you are you grow. If you want to add additional users during the year you just pay pro-rata to your renewal date.
Lite users: The same features as full Tagmin accounts but limited to 100 days of access across a year. Only available alongside a 'First' user.

Add-ons
A family of tools to compliment your core Tagmin system

TagTapes
Converts, compresses, titles, stitches & organises all your tapes

TagVoice
Additional bespoke tools for those representing Voiceover Artists

TagProjects
A bespoke system to track projects in pre-production

TagTexts
Message your talent from your computer screen

TagWeb
Updates all the client info on your website!

TagExtras
Additional bespoke tools for those representing Supporting Artists
Self-taping simplified
TagTapes removes the technical hassle from self-taping and allows your talent to upload their completed tapes directly to your Tagmin account ready for you to approve:

Converts the Tape to the industry standard – MP4
Encodes the tape so it's not too big for the Casting Director
Allows you to stitch together multiple clips into one video
Automatically renames the file ACTOR-ROLE-PROJECT.MP4
Lets you rename the file if needed
Alerts you when a new tape arrives from your clients
Lets you watch and approve the tape in Tagmin
Lets you remove and reorder scenes if needed, before resaving the tape
Tells to clearly where each tape needs to end up, a clear list showing you which tapes have been approved, which have not been sent out – and where they need to go
Allows you to create Playlists for the Casting Director, when more than one of your clients is taping for the same project
Adds a link to your client's Spotlight CV next to the tape, along with your full agency branding
Allows Casting Directors to watch the tape before downloading
Tells you how much of the tape the Casting Director watched
Tells you when the tape was downloaded

#YesNo
There should always be an easy-peasy way for any casting team, casting any project, to be able to inform all involved that a role is now cast – so that, by some means, all actors always receive a Yes or No.

In line with this we worked with casting directors Anna Dawson & Amy Blair to build a #YesNo tool – free of charge – and open to all – regardless of whether they use Tagmin or not.

The system allows casting directors to quickly, simply and securely update actors and agents when the status of a role has changed – even if the project is covered by an NDA. 

It's not been created to replace existing forms of communication and feedback ‐ but to specifically offer a solution to those projects where actors were not being told that they had not got the job – or progressed further.

The system works a little like tracking a parcel, when the casting director emails the actor or agent with the audition information, they include a link that allows them to track the status of that role – OPEN or CAST – along with a note giving more information. Actors and agents can also add their email address so that when the Casting Director updates the role status – they get an email automatically. This way actors can do their casting and then forget all about it, until they either progress further – or get told it's not gone their way – with the aim of better mental health for all.

If you are a casting director wanting to use YesNo and you would like a demo, just email [email protected].

If you are an actor or agent and you have received a key to track a role go to: yesno.tagmin.com

This tool was designed following demos to and feedback from representatives at the CDG, CDA, PMA, CPMA & Equity Scotland.